Click here and follow Jason47's Facebook Page for all the latest "Days" news and updates!

NBC RENEWS "DAYS OF OUR LIVES" THROUGH SEPTEMBER 2017!
"Days of our Lives," which recently celebrated its 50th anniversary and is one of the most iconic programs in the history of daytime television, has been renewed for a new season by NBC.
The announcement was made by Jennifer Salke, President, NBC Entertainment.
"NBC is incredibly proud of the legacy of 'Days of our Lives' and we couldn't be more excited to brings its fans new stories for the 51st season," Salke said. "In a business where having a show remain on the air for two seasons is considered a success, what 'Days' has achieved is extraordinary."
So far this season, "Days of our Lives" is averaging a 0.90 rating, 6 share in women 18-49 and 2.901 million viewers overall in "most current" ratings from Nielsen Media Research. Through the first five weeks of the current quarter, "Days" has grown to a 0.93 rating, 6 share in women 18-49, up +6% versus its 0.88 for the same period last year, and 2.993 million viewers overall, up +15% versus its 2.601 million for the same weeks last year.
"Days of our Lives" has garnered 43 Daytime Emmy Awards, including 2015's Outstanding Daytime Drama, and numerous nominations, as well as multiple People's Choice Awards, GLAAD Media Awards, and Prism Awards. The show airs nationally on NBC in the United States and in more than 25 countries internationally.
"Like sands through the hourglass, so are the days of our lives." For over a half-century, those words have introduced and underscored one of daytime drama's rare mainstays. NBC's "Days of our Lives" first premiered as a half-hour drama in 1965 and expanded to an hour 10 years later.
The success of the series derives from its consistent commitment to excellence in writing and storytelling — supported by a diverse ensemble of performers — and its uncanny knack for anticipating viewer interests. With its mix of classic genre traditions and groundbreaking narratives reflecting modern life, "Days of our Lives" remains a perennial favorite among viewers of all ages.
"Days of our Lives" is set in the fictitious Midwestern town of Salem. The core families are the Bradys, Hortons and DiMeras, and the multi-layered storylines involve elements of romance, adventure, mystery, comedy and drama.
"Days of our Lives" is produced by Corday Productions Inc. in association with Sony Pictures Television. Ken Corday is executive producer, with co-executive producers Greg Meng and Albert Alarr. Dena Higley and Josh Griffith are the head writing team.

JUST RELEASED:

January 2016 Episode Rankings

January 2016 Daily Cast Chart

Director & Writer Database: January 2016 Update


HAPPY 50TH ANNIVERSARY "DAYS OF OUR LIVES"!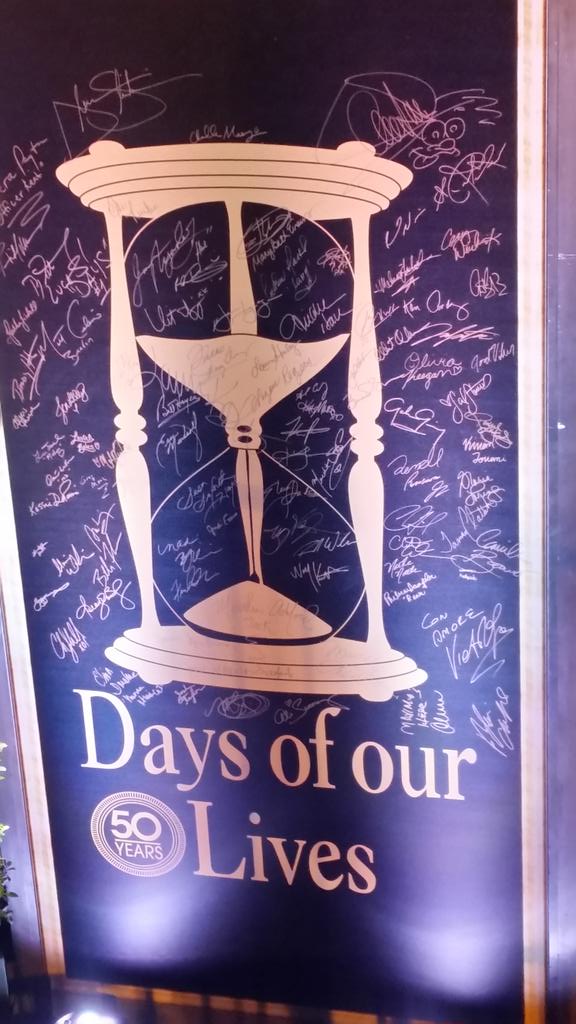 "DAYS" 50TH ANNIVERSARY PHOTO TRIBUTE

Click here to take a look back at the 50 actors who have appeared in the most episodes of "Days."
"DAYS" WEDDINGS...A COMPLETE LIST


Click on the links below to read through a list of all 120 completed weddings in "Days" history:

"DAYS" BIRTHS...A COMPLETE LIST!
Click here!

THE BIRTH & NAMING OF HOPE WILLIAMS, 1974


"Addie has woken up and Doug tells her that their baby needs a name. He asks if she's decided on one."
Read all about the birth and naming of Hope Williams for the first-time ever online! Click here.


RECENTLY RELEASED:
A History of "Days" Contract Renewals: 1980-Present

1996 soap article predicts Salem in 20 years...
See which predictions came true...and which didn't!

Click here to see all of the events leading up to the first "Days" murder


EPISODE SUMMARIES: